(5.0)
18 Reviews
Regular price
Sale price
$1,995.00 USD
Unit price
per
Sale
Sold out
---
Authentic Top-Grain Leather

Locally-Owned, Small Business (Beloit, WI)

$375 Flat-rate Courier Delivery in Continental US
---
"A Rising Tide lifts all ships..."
Procceds from our furniture fund the operation of our Youth & Community Center in Beloit, Wisconsin.
Our Community Center
---
"A Rising Tide lifts all ships..."
Procceds from our furniture fund the operation of our Youth & Community Center in Beloit, Wisconsin.
Our Community Center
---
The Remington Chesterfield Leather Sofa is made to order from authentic, dark brown top-grain leather, which will only intensify in beauty and character with time. Please see the "Materials & Construction" section below for further details.
Upon completion, you are welcome to pickup your furniture in-person for free (BELOIT, WI 53511). If this is the method you'd like to use, please select the option for "Local Pickup" at Checkout.
We also deliver anywhere in the lower 48 using couriers to personally deliver your furniture. Delivery via courier is a flat-rate of $375 regardless of order size.
Lead Time: 14-16 Weeks
---
Materials & Construction

Our Leather
Our Chesterfields are made of nothing but top-grain buffalo hide throughout. During the tanning process, buffalo hides aren't stretched like their cowhide counterparts. This makes buffalo hide stiffer and more difficult to work with, but in return gives a thicker and more durable hide. 

Almost all furniture companies source their leather pre-dyed and pre-finished. This leads to terms like aniline and semi-aniline which refer to the state of the leather (combination of dye, top-coat or lack thereof, etc) when the leather leaves the tannery. What makes us special is we source our leather from the tannery "naked" and dye it in-house ourselves. This process is quite involved, but allows us to achieve the colors and tonal variations that make our furniture so unique. 

Making beautiful furniture is important, but even more important is ensuring it stays that way. Because many of our customers have households full of active two and four-leggers, all our furniture is finished with a thin, protective top coat for added durability.

Clear top coats such as resolene are excellent for not only providing scratch and stain resistance, but also retaining the color and vitality of your furniture that we put so much effort into. If applied too thick however, the sealing properties of many of these top coats can make it difficult for leather to absorb the conditioner necessary to keep it moisturized and flexible over time. Dry leather leads to cracked leather. This is why we "cut" (dilute) our top-coat and apply it in a very thin layer. Enough to help protect your leather from everyday scratches and stains, but not enough to prevent conditioner from being absorbed. That said, it still is very important that when you apply conditioner, you do so thoroughly and really allow it to soak in.

Our Furniture Frames
Our Chesterfields are constructed on frames made out of mango wood, which is a sustainably sourced hardwood with similar density and traits to oak. We use corner blocking and significant cross-bracing to reinforce the frames. 

Occasionally we get asked the weight-bearing capacity of our furniture for which we've conducted extensive scientific tests. For our 95" sofa, it's at least seven grown men and a 50lb golden retriever. We weren't able to fit anyone else at that point… The frames are overengineered and you'll feel it in the weight of the furniture itself. The 95" is almost 200lbs.

We've experimented extensively with removable legs, but never were satisfied with the results. For maximum durability, the legs are built into the frame where they are actually used as corner-blocking themselves.

You will therefore notice that all of our furniture is 30" tall (~29 ¾" to be specific). This is to ensure that despite the legs not being removable, when the furniture is turned on it's side, it will fit through almost all exterior and interior doors. As explained via "Our Story" page, our company was originally born out of staging houses. So we know first hand the futile struggles of trying to fit oversized furniture through doorways, as well as the lovely dialogue that occurs while doing so.

Regardless of our doorway conscientious dimensions, please ensure you still measure all doorways leading to whatever area of the home that you plan to put the furniture, especially if you have an older home. Older houses often have narrower interior doors of 29" or even less. The same goes for measuring any hallways and 90 degree turns the furniture needs to traverse. Last minute problem solving is no fun for you or the delivery folks.

The full array of dimensions along with corresponding diagrams can be found further down this page.

Our Suspension System
There are a multitude of suspension systems used for furniture and everyone will tell you theirs is the best. In actuality, each one has their place. Springs, particularly more intricate systems such as 8-way hand-tied can be excellent and long lasting if installed correctly. However, no matter how well built something is, life happens and sometimes things go wrong. In which case spring systems can be difficult and expensive to repair. The more complex the system, the more complex the repair. Sofas aren't something you can easily throw in your car and take somewhere to be fixed. And even the best spring systems are susceptible to the dreaded squeaking over time. 

In our furniture, we opt to use polypropylene webbing which is a very durable material similar to what is used for seat belts, having minimum stretch and give. This helps to ensure your gorgeous furniture retains its both its support and aesthetics over time. We hate sagging cushions, and this one of the ways that we avoid it. 

Polypropylene is water resistant and won't rot like jute and some other types of webbing. This combined with its inelasticity means that as long as it is installed correctly, it will hold up very well over time nor will it ever squeak. And gosh forbid something does ever go wrong, no need to put on your Indiana Jones hat to find someone who can fix it. Repairs are simple and straightforward.

Our Cushions
All of our cushions are made out of a high density foam which is quite firm to ensure our cushions retain their shape. Our frames and leather will last a very long time, and it's important our cushions do too. Nothing ruins a gorgeous Chesterfield more than sagging cushions. The cushions will break in some over time, but they'll always be on the firmer side. 

If you're looking for something soft with lots of give, we're probably not what you are looking for. On a firmness scale of 1-10 with 10 being the firmest, our normal cushions are ~7 and our tufted bench seats ~8.

Our normal cushions are removable and reversible. This allows them to be routinely flipped and rotated. Our tufted bench seats however are built into the frame, which means they need to truly last the life of the furniture. This is why they are firmer than the normal cushions.
Care & Maintenance

Applying Leather Conditioner
As with any true leather product, ongoing maintenance is required to maintain your leather furniture. Upon receipt of your Chesterfield, you are strongly advised to immediately apply a leather conditioner. This moisturizes and protects the leather. You are then encouraged to apply the conditioner every 6 to 9 months thereafter, or to your liking. In addition to protecting the leather, the conditioner also slightly darkens the leather and can give it a slight sheen (depending on if wax is present). Thus, there is an aesthetic component to applying the conditioner as well.

UV Rays & Sunlight
We strongly advise that you keep your leather furniture out of direct sunlight if possible. UV rays from the sun can damage and fade the leather.
Shipping & Delivery

Order Processing Time
All Chesterfields are currently handmade to order, with a 14-16 week lead time.

Due to the sheer number of different sizes and leather tones that we offer, it would be very cost inefficient for us to try stock the Chesterfields ahead of time. By only making furniture on a made to order basis, while it does take longer, it allows us to offer the prices we do.

The only items that we currently stock are our Aviator Chairs

Shipping Rates & Delivery Times
We use couriers to personally deliver all furniture anywhere in the Continental United States for a flat-rate delivery fee of $375, regardless of order size.

Upon completion of your furniture, you will be contacted via the contact info you leave at checkout to coordinate the exact delivery date and time of your furniture.

Estimated delivery time is 1-14 business days and will vary based on where you live.

In-person pickup is FREE, and is also an available option for all orders. In-person pickup is conducted by appointment only in Beloit, WI (53511).
View full details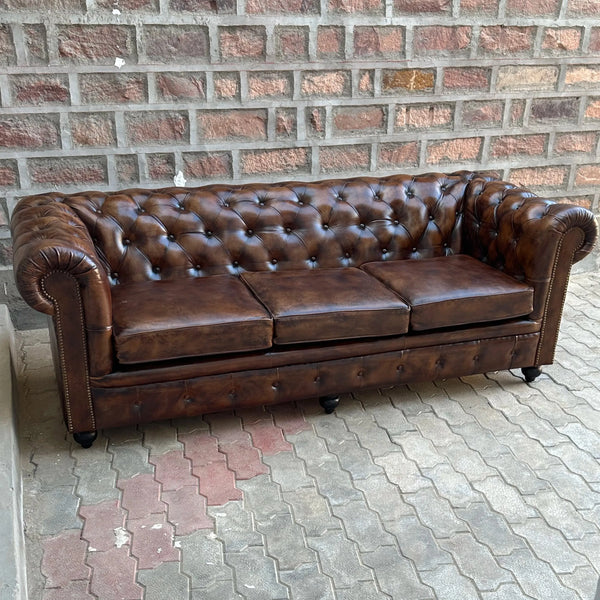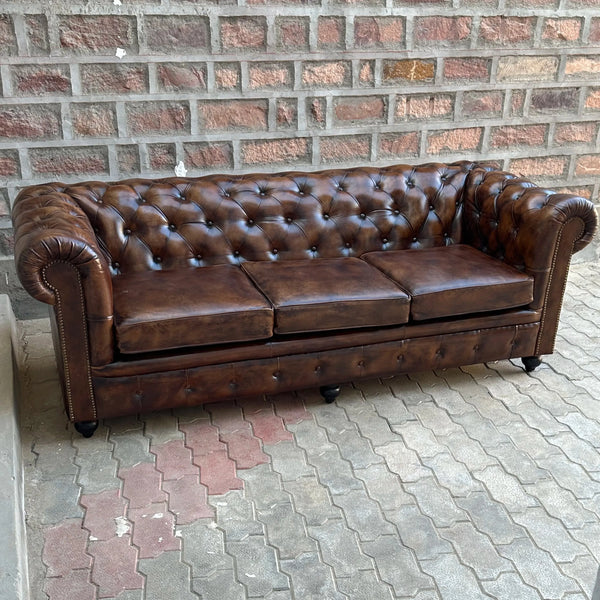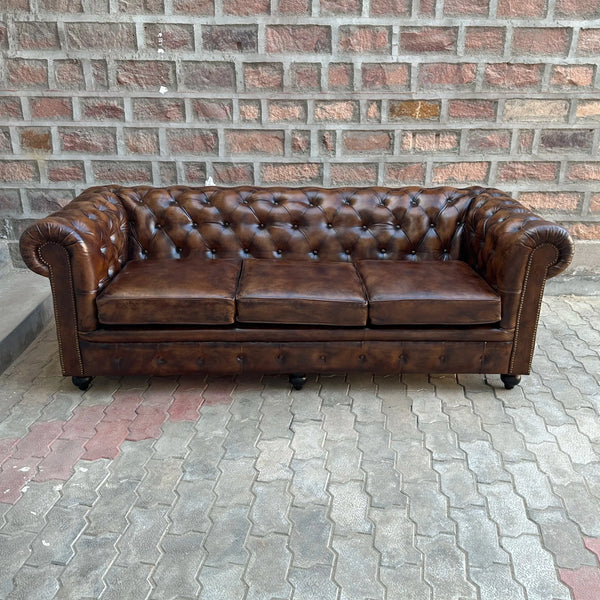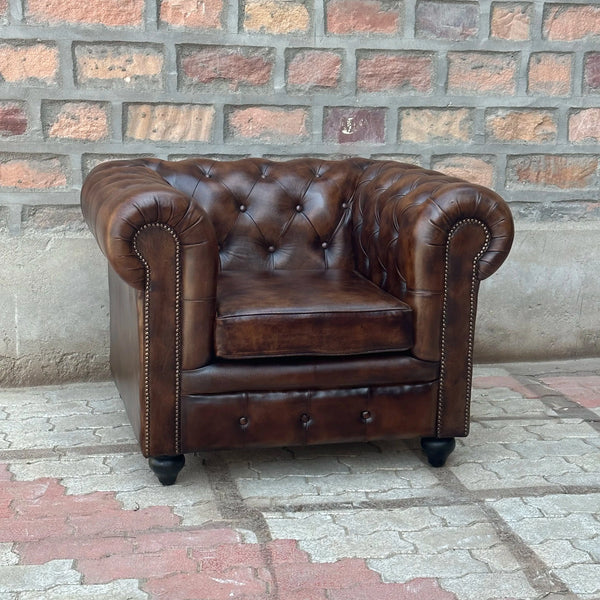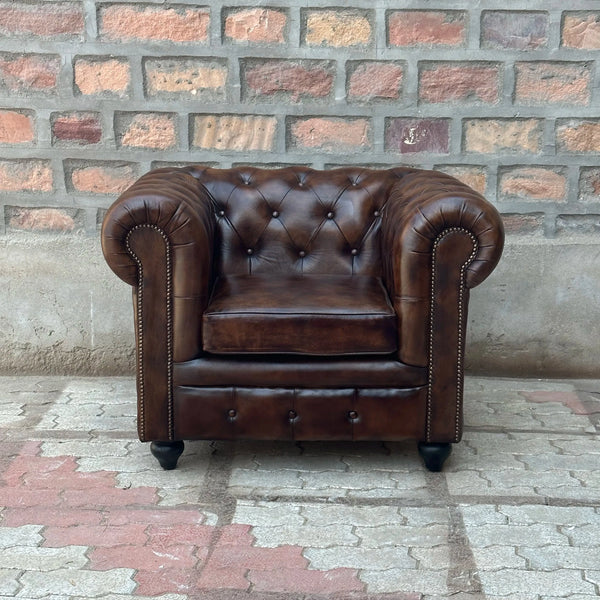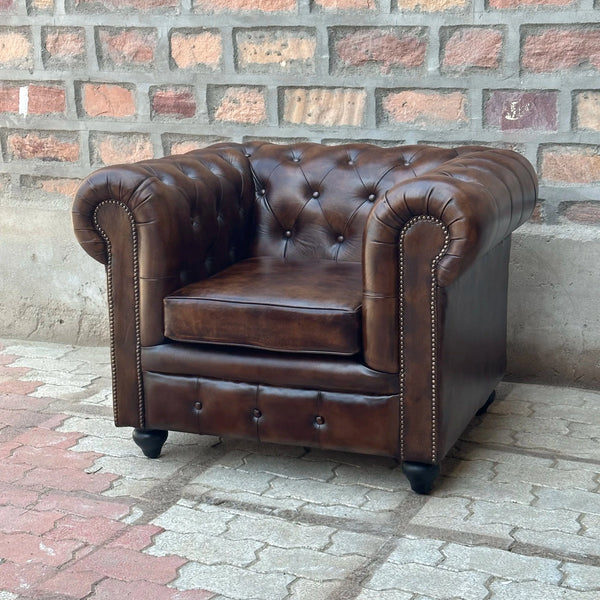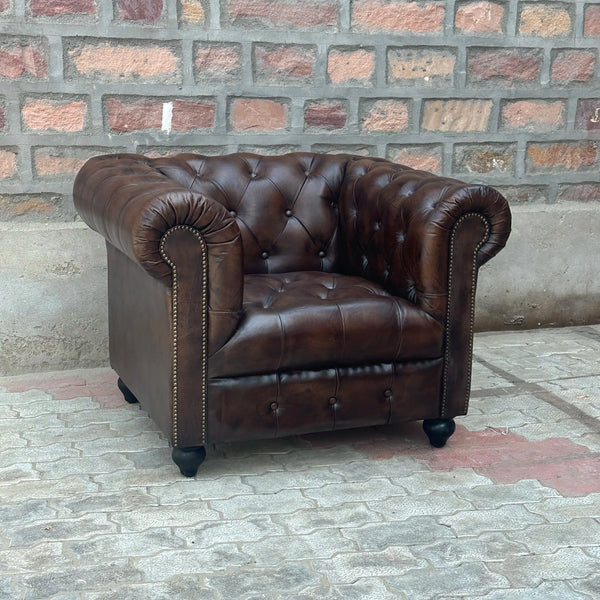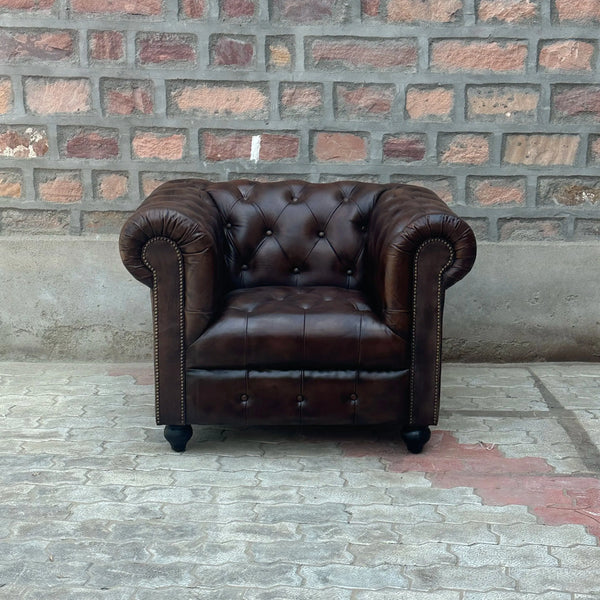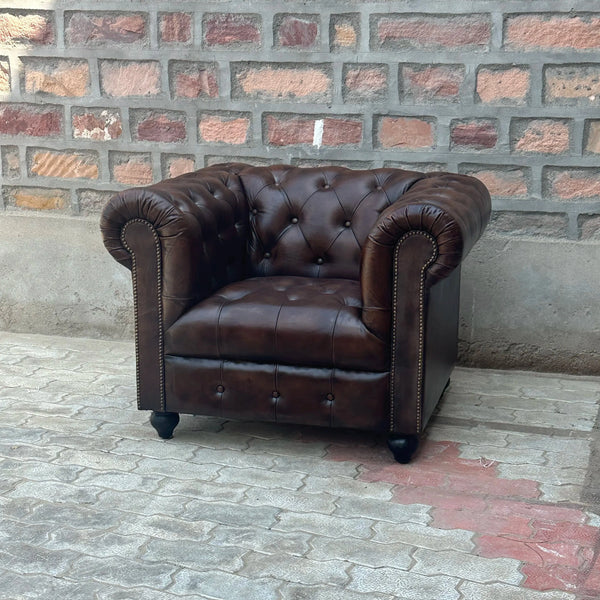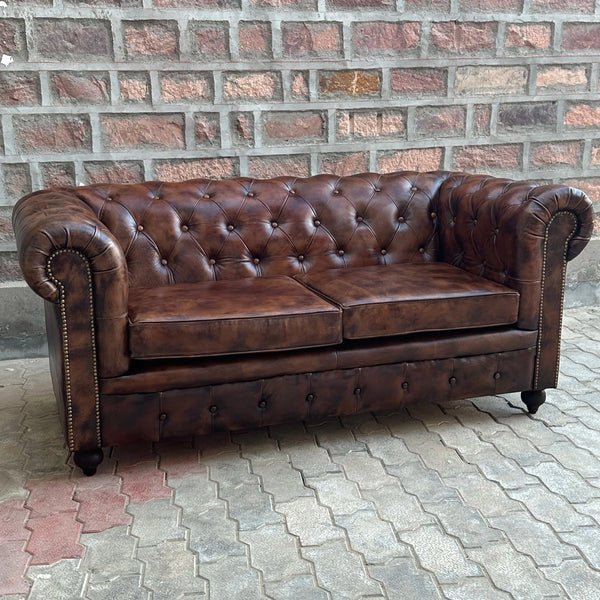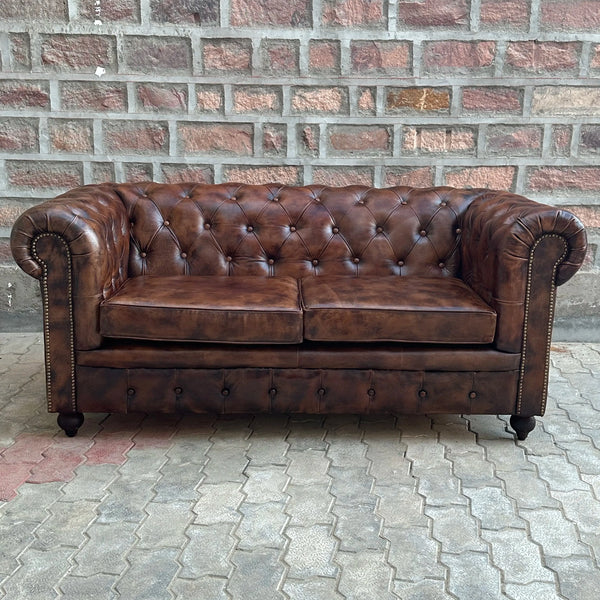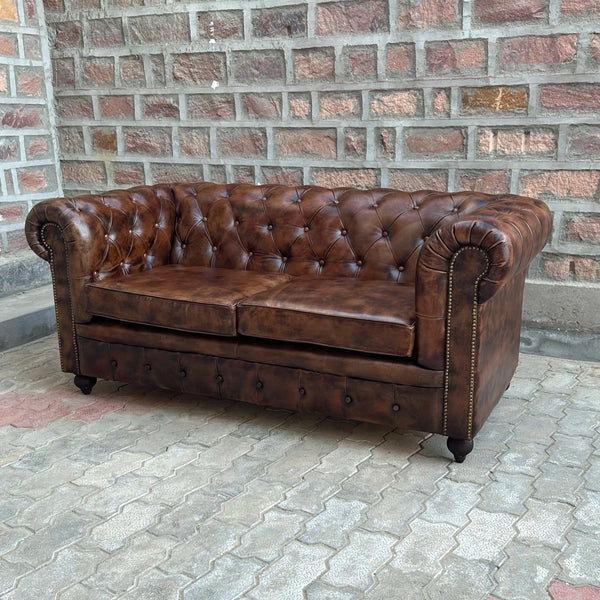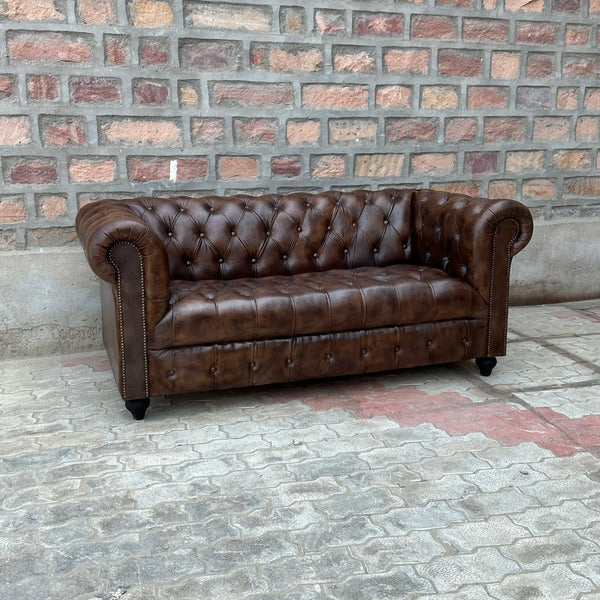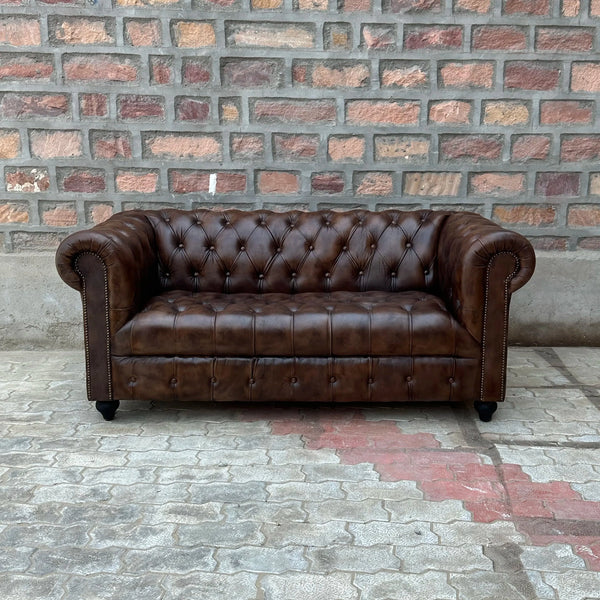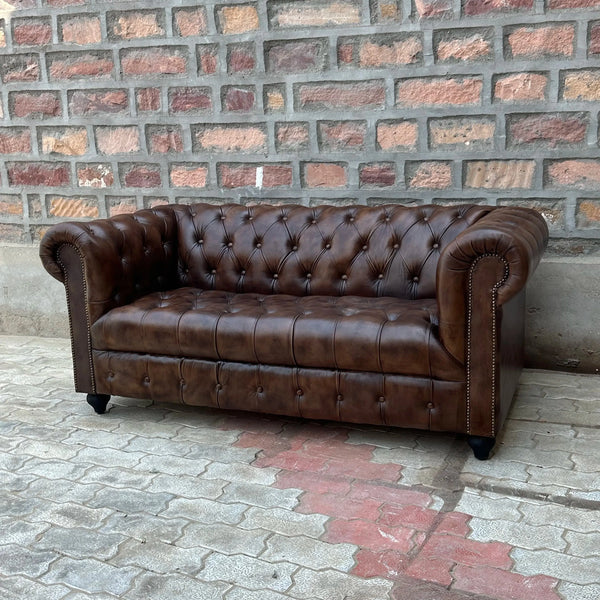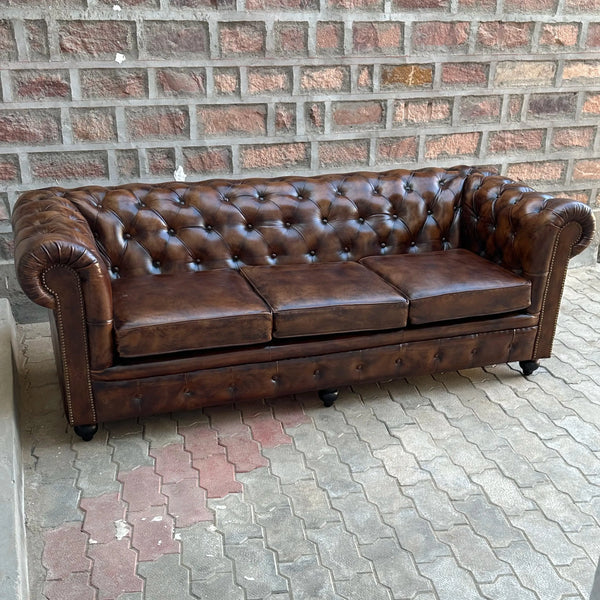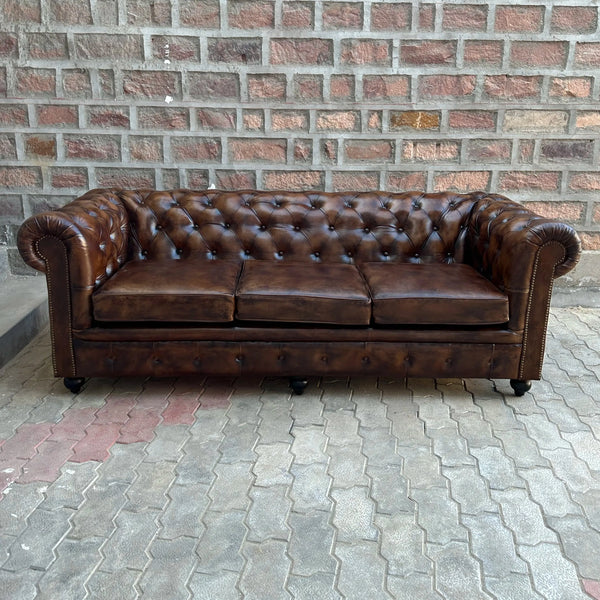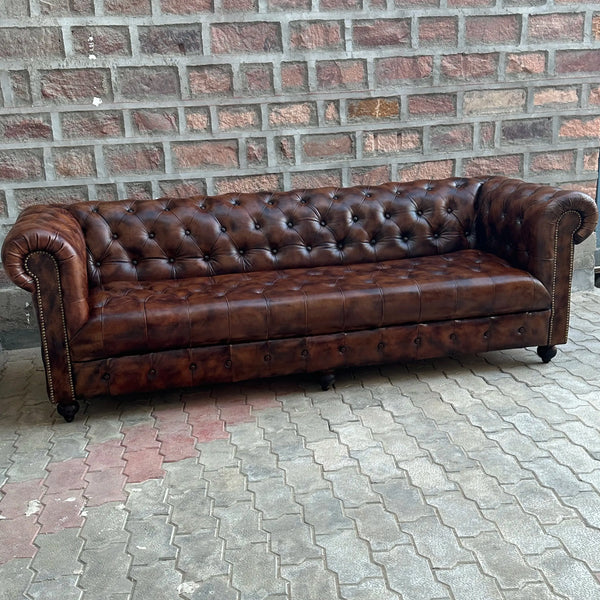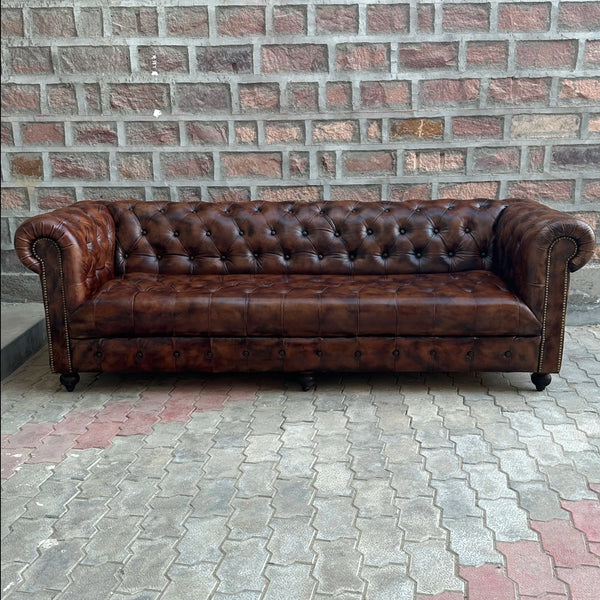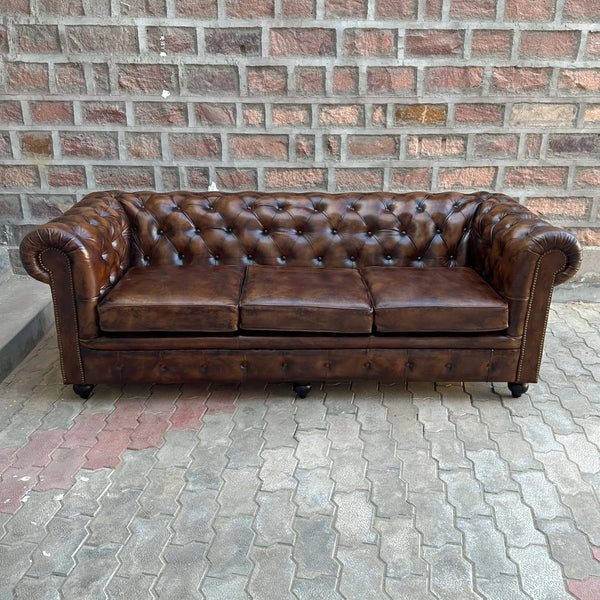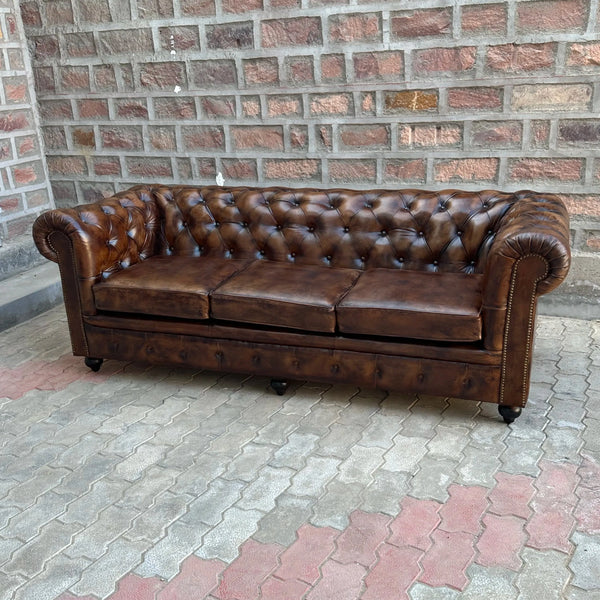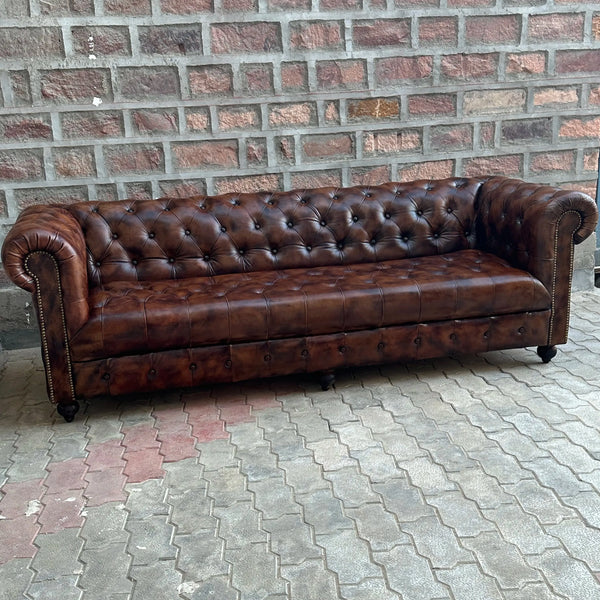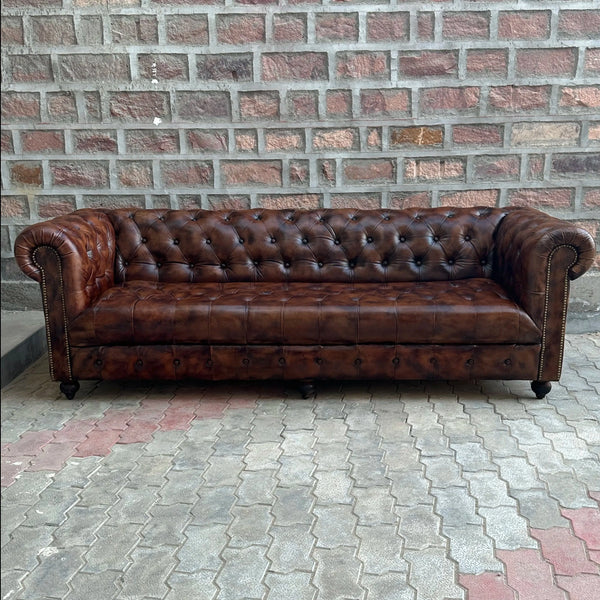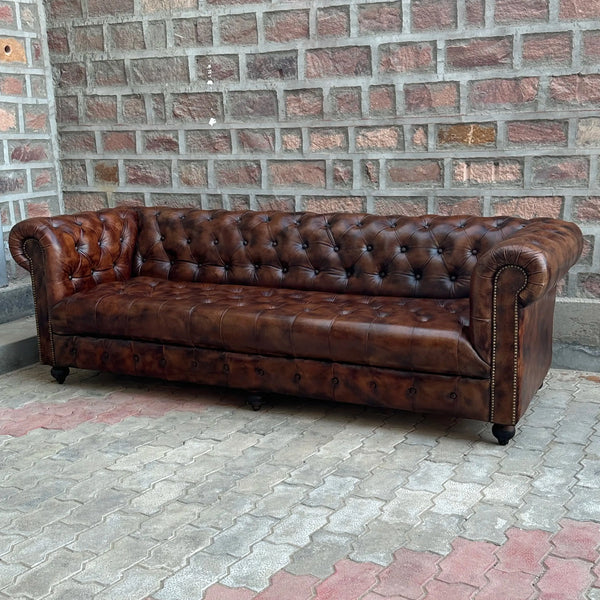 ---
Dimensions
Remington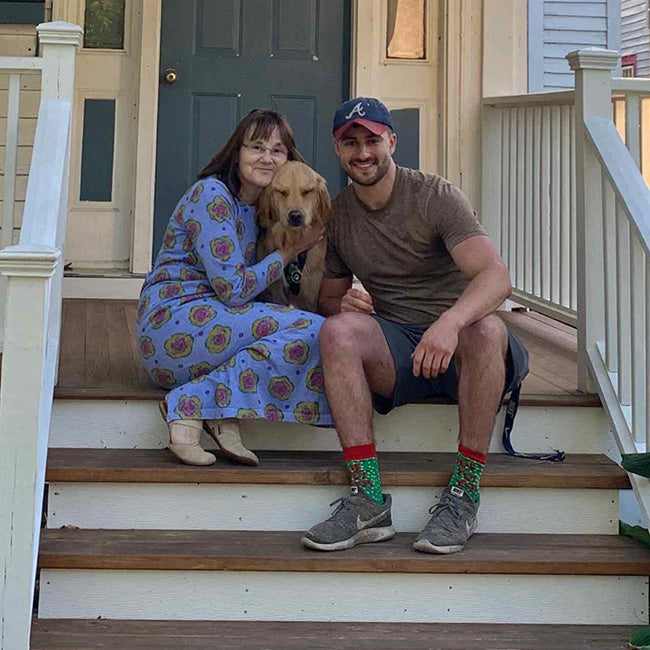 Cole Swartz
"A Rising Tide lifts all ships."
Hello there, my name is Cole. If you like supporting the little guy with aspirations to disrupt an entire industry, you're in the right place. Our furniture is higher quality, our prices are way lower, and the profits literally fund our own 75,000sf Youth & Community Center here in our hometown (Beloit, WI).
Due to the fact that we make and design all of our furniture ourselves, we currently only offer a handful of offerings. This is because each new item takes significant time to design, prototype, test, and perfect. This, combined with our small team, is also why we do not offer custom orders at this time. As time goes on, we hope to gradually expand our furnishings to a wider selection.
Thank you for taking the time to visit our shop. If you have any questions, you are welcome to message us and we'll get back to you as soon as we can.
What our customers are saying